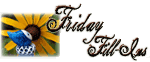 1. For me
dullness and boredom
is the opposite of creativity.
2.
The Purpose Driven Life
was the last excellent book I read.
3. I like fill-ins because
it is easy and fun
.
4. In nature I like looking at
flowers and the vast sky
.
5.
An honest president
should win the US elections.
6. The last time I laughed with all my belly was
when my nephew did something very funny
.
7. And as for the weekend, tonight I'm looking forward to
going to the grocery
, tomorrow my plans include
going the my baby's doctor
and Sunday, I want to
spend time with hubby and baby at home after we attend the mass coz it's a special day for us plus we are attending a sunset photo shoot with the Fanatic Photographers Society here which we are excited
!